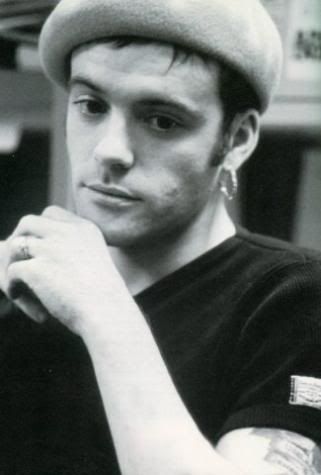 Nel tanto citato e famigerato "Club dei 27" Richey James Edwards ci entra un po' di straforo. Leggende a parte, l'ex leader e autore dei Manic Street Preachers non si sa davvero che fine abbia fatto. Il certificato, infatti, porta la dicitura di presunto morto.
Richey era già un must-see quando era in vita. Splendido esemplare di precursore dell'emo nell'aspetto, doti poetiche e, ovviamente, un sacco di problemi. Alcool ma soprattutto una grave anoressia. Egli era però, a differenza di ciò che il modello rockstar vorrebbe, pienamente consapevole della sua malattia. 4st 7lbs ne è un'agghiacciante trasposizione (peso corrispondente ai 29 kili, limite che rappresenta la morte certa per l'anoressia).
I Manic Street Preachers nascono nei primi anni '80, nell'era degli astri nascenti del brit-pop, i londinesi Blur e gli Oasis di Manchester. Sono gallesi di Blackwood, città di minatori che ha vissuto in pieno gli scioperi e i movimenti sociali del periodo. Ne deriva una grande politicizzazione della band, che tutt'oggi perdura e If you Tolerate This né è la prova lampante. I Manich sono attivi più che mai e negli ultimi mesi le loro Postcard from a Young Man e Autumnsong popolano le radio.
Richey scomparve il 1 febbraio del 1995 senza più lasciare traccia di sé. La sua auto venne ritrovata nei pressi del Severn Bridge, ad Aust, nota meta di suicidi. Tuttavia il chitarrista aveva stranamente prelevato 2800£ prima di scomparire, strano. E, ovviamente, i presunti avvistamenti non si contano. Viene dichiarato "presunto morto" solo nel 2008. L'anno successivo i Manic pubblicano "Journal for Plague Lovers", album con testi tutti di Edwards.
Richey appariva come un personaggio al limite. Una volta un giornalista glielo fece notare. Lui non rispose a parole: prese una lametta e si incise sul braccio la scritta "4 real". Ha fatto tutto sul serio, dall'inizio alla fine. Presunta.
—————————–
In the so much quoted and famous "27 Club" Richey James Edwards goes in a bit on the sly. Legends apart, we really don't know what happened to the former leader and author of Manic Street Preachers and where he disappeared. The certificate, a matter of fact, declare him a presumed dead.
Richey already was a must-see when he was alive. A marvelous exemplar and pioneer of the "emo", poetic talent and, obviously, a lot of problems. Alcohol but above all a serious anorexia. However he was, differently from what a rockstar would be, completely conscious about his illness. 4st 7lbs is a dreadful prove of it (is the weight of 29 kg, the limit which represents the sure death for anorexia).
The Manic Street Preachers were formed in the early 80s, in the brit-pop raising era with the Blur from London and the Oasis from Manchester. They instead are Welsh, from Blackwood, city of miners that lived the strikes and social movements of that period. Derive from this the politicization of their texts, that still continue and If You Tolerate This is the demonstration. The Manic are so much active now and in the last months their songs Postcard From a Young Man and Autumnsong are always on air in the radio.
Richey disappeared on february 1st, 1995, without a trace. His car was retrieved next to the Severn Bridge, near Aust, a well-known destination for suicides. Nevertheless the guitarist had strangely withdrawn about 2800£ before disappear, and is strange. And, obviously, the presumed sightings are many. He was declared "presumed dead" only in 2008. The following year the Manic released "Journal for Plague Lovers", an album with all texts written by Edwards.
Richey appears as a personality who lived on the edge. In one occasion, a journalist said that to him. He didn't answer, not with words: he took a razor blade and engraved on his arm the writing "4 real". He made all for real, from the beginning to the end. Presumed.