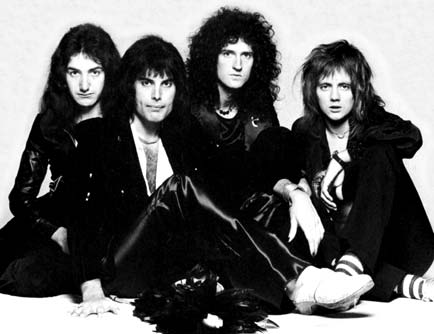 Avevo 5 anni e sapevo a memoria l'inizio e il ritornello di Living on my Own. Freddie Mercury era morto esattamente l'anno prima, ma questo non lo sapevo. Di anni poi ne sono passati 20. E la sua voce non se ne andrà mai.
Freddie è stato una vera e propria icona pop, nel senso artistico del termine. Ha sfoggiato look totalmente diversi tra loro: vestiti di pelle squarciati e capelli lunghi negli anni '70, taglio corto e caratteristici baffi negli '80s, seguendo la moda Castro clone, in voga in quel periodo per rappresentare l'essere gay.
La storia del leader dei Queen parte da Zanzibar, luogo dove nasce e ritorna da adolescente, dopo alcuni periodi in India, di cui i genitori di Freddie erano originari. All'anagrafe Farrok Bulsara, arriva in Inghilterra a metà anni '60. In quegli anni si arrangiava ma soprattutto continuava incessantemente a studiare musica.
Non si sa quando Freddie si ammalò di AIDS. Lo rivelò al grande pubblico solo molto tempo dopo, chiedendo la vicinanza di tutti. Morì a causa di una polmonite, esattamente 24 ore dopo quell'annuncio che è poi risuonato, a tutti, come un addio.
I Queen esplosero letteralmente all'inizio degli anni '70, portando in scena un modo rivoluzionario di gestire il palcoscenico: Mercury e il chitarrista Brian May si presentavano truccati e dialogavano con il pubblico come mai nessuno prima di loro, aprendosi ad un'era dove la libertà sessuale e di pensiero raggiungeva il proprio apice. Suonarono al Rock in Rio, in Brasile, davanti a 250mila persone.
Dopo la morte di Freddie il gruppo non fu più nulla praticamente. Dei Queen però, oltre al recente e omonimo musical, rimangono soprattutto le canzoni. Da We will Rock you e We are the Champions che suonano ancora in qualsiasi palazzetto del mondo, a perle come Somebody to Love e Don't stop me Now. Le canzoni di Freddie Mercury sono statisticamente tra le più usate negli spot pubblicitari. E non esiste indice di gradimento più chiaro.
Il capolavoro, però, è Bohemian Rhapsody. È difficile permettersi di descrivere una canzone che porta un titolo simile, e che si presenta senza un ritornello, cambia ritmo e tipologia diverse volte e passa da un'intro a cappella a sessioni hard rock ad assoli di chitarra. È anche la massima espressione vocale di Freddie, che regala scansioni profonde e acuti da brivido per un mix che il tempo non cancellerà mai.
Durante un loro concerto a Wembley, Freddie presenta una nuova canzone dicendo che i Queen si sarebbero separati solo alla morte. Il silenzio, poi il pianoforte. Who Wants to Live Forever.
——————
I was 5 years old and I knew perfectly the beginning and the refrain of Living on my Own. Freddie Mercury was died exactly one year before, but I didn't know this. 20 years are passed. And his voice will never go away.
Freddie was a real pop icon, in the artistic meaning of the term. He had some totally different looks: leather clothes and log hairs in the '70s, short hairstyle and the famous mustache in the '80s, following the Castro Clone mod, a typical gay style.
The story of the leader of Queen starts at Zanzibar, the place where he was born and where he returned as a teenager, after a period in India, from which his parents were natives. At the register office his name is Farrok Bulsara, he arrived in England in the middle of the '60s. In those years he did several jobs but above all he continue to study music.
We don't know when Freddie became seropositive. He told this to the world some time after, asking for the nearness and the affection of everybody. He died because of pneumonia, exactly 24 hours after that announcement that, in retrospect, sounds like a goodbay.
The Queen literally exploded at the beginning of the '70s, bringing on stage a revolutionary way to have a concert: Mercury and Brian May presented themselves with make up and talking with the crowd like no one before, in an era where the thinking and sexual freedom was reaching its apex. They performed at Rock in Rio, in Brazil, in front of 250 thousands people.
After the death of Freddie the band practically ended. About Queen remains nowadays, further than the musical, above all their songs. From We will Rock you and We are the Champions that are played in every arenas in the world, to pearls like Somebody to Love and Don't Stop me Now. Freddie Mercury's songs are statistically some of the most used in the Tv spots. And there's not a popularity rating clearer than that.
The real masterpiece, however, is Bohemian Rhapsody. It's difficult to describe a song like this, with that title, without a refrain, which changes rhythm several times from an intro a cappella to some hard rock sessions to a guitar solo. It's also the maximum vocal expression of Freddie, who give us some deep spellings and some chilling acutes, a mix that will never die.
During one concert in Wembley, Freddie presented a new song saying that the Queen will end only at their death. Silence, then the piano started. Who Wants to Live Forever.